Utah Museum of Fine Arts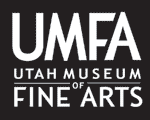 As Utah's premier art museum, the Utah Museum of Fine Arts' permanent collection spans over 5,000 years of human creativity, and features more than 17,000 works from classic antiquities to contemporary global art. With ever-changing galleries and special touring exhibitions, each visit to the Museum provides a unique cultural experience. Films, art classes, artist talks, family activities, and gallery tours are provided year-round to introduce visitors of all ages to the many wonders found in the UMFA.
Housed in the beautiful Marcia and John Price Museum Building, the UMFA is the perfect setting for romantic weddings, inspired business retreats, and unique parties or events. Visitors can commemorate their experience with posters, jewelry, pottery, and other art-inspired merchandise from The Museum Store, and are always invited to enjoy sweet and savory treats like sandwiches, soups, salads, and pastries in The Museum Café. Please visit umfa.utah.edu for more information.

Begin your artistic experience at the Utah Museum of Fine Arts today!
Contact Info
Marcia and John Price Museum Building,
410 Campus Center Drive
Salt Lake City, UT 84112
Phone: 801-581-7332
Fax: 801-585-5198
umfa.publicrelations@utah.edu
Map
Website
Services
African Art
American Art
American Indian Art
Ancient art
Art exhibitions
Art tours
Art classes
Art museum
Artist talks
Asian art
Business retreats
Café (cafeterias?)
Conference Rooms
Contemporary Art
Curators
Docent opportunities
Docent-led tours
Drawings
Educational Services
European Art
Evening for Educators
Events (planning and management)
Exhibitions
Facility Rental
Family activities
Films
Fine Art Museum
Galleries
Gifts
Gift cards
Holiday Open House
Internships
Lectures
Lesson plans
Meeting planning service
Meeting Space
Modern art
Museum of Fine Arts
The Museum Café
The Museum Store
Museum membership
Native American Art
Online exhibitions
Paintings
Pacific Island Art
Photographs
Pre-Columbian Art
Private rental
Reception venues
Restaurant
School programs
Sculpture
Snacks and beverages
Store
Summer Camp for Kids
Teacher resource center
Third Saturday for Families
Utah Art
Utah Museum of Fine Arts